This page was created at the request of students who wanted an easy reference guide for the movements and Chinese phrases used during classes.
The Chinese phrase will be listed first in pinyin (the Westernized version of the Chinese language), followed by a pronunciation guide in parenthesis and then the English translation. The translations provided are the closest meaning of the phrase used in class.
Practice saying the words as you learn the movements. Of course, feel free to ask for help so your pronunciation gets as good as your movements.
Visit this page often as we will continue to add more information to help guide your practice. Feel free to let us know of anything else we should add.
Class Greeting and Goodbye
At the start of class:
both teacher and students will form a fist/quan in their right hand and an open palm/zhang in their left hand. Bring the two hands together to salute. As shown on right.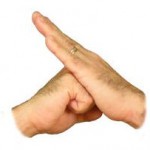 Teacher: Tóng xué men hǎo [tong-shu-men how] => Hello students
Students: Lǎoshī hǎo [law-shur how] => Hello teacher
Class Begins
Before the end of class; the same saluting posture is used.
Teacher: Tóng xué men zài jiàn [tong-shu-men sa jian] => Goodbye students
Students: Lǎoshī zài jiàn [law-shur sajian] => Goodbye teacher
Teacher and Students: Xiè xie [she-eh she-eh] => Thank you
Class ends
Counting from 1 to 10
1 一 yī [eee]
2 二 èr [arr]
3 三 sān [sahn]
4 四 sì [ssuh]
5 五 wǔ [woo]
6 六 lìu [lee-oo]
7 七 qī [chee]
8 八 bā [bah]
9 九 jiǔ [jee-oo]
10 十 shí [sher]