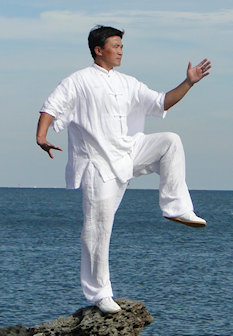 Master Guangzhi Xing is the owner and founder of YYTA. Master Xing (pronounced Shing) began learning Tai Chi as a young boy from his grandfather in his hometown of Harbin, China. He continued to expand his knowledge receiving training in specialized schools for Wushu, Tai Chi, and Qi Gong.
In China, he received certification as a Qi Gong and Tai Chi instructor. Guangzhi Xing also has a B.A. in physical education from Shenyang, China. With all of his qualifications he was assigned to be a premier coach to a Tai Chi/Wushu team and helped them win the national championship for three years consecutively.
Master Xing founded the Yin Yang Taijiquan Academy (YYTA) here in central Connecticut in 1993. He combines his great knowledge with a sincere desire to share and teach. Master Xing takes personal pride in each of his students and encourages them regardless of age, capability or entry level. He has endeavored to develop superior programs that meet the needs of today's adult learners, ranging from college students to retirees. Master Xing also developed a special program for physical therapy students at Quinnipiac University, Hamden CT.
Get to know us. This is a glimpse into Tai Chi at Yin Yang Taijiquan Academy.
Please note: most of the clips filmed in this short feature are from our Intermediate and Advanced Taijiquan classes.